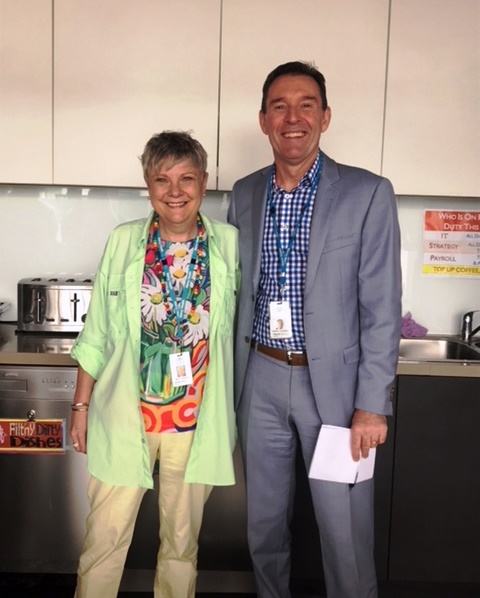 Mercy Health LGBTIQ employees encouraged to bring their whole selves to work
Earlier this year Mercy Health announced work was being undertaken to develop a support network known as 'Bring your Whole Self to Work'. Over recent months, additional tensions in the community surrounding the same-sex marriage plebiscite have given us reason to reassure employees and the people they care for that we accept the whole person irrespective of sexual orientation or gender identity. For this reason we also wish to announce the progress on this initiative.
In November 2017 we will formally launch a support network for Mercy Health staff –  Whole Self @ Mercy Health. The aim of this network is to support Mercy Health's commitment to equity and inclusion as it pertains to LGBTIQ[1] employees, enabling each person to bring their whole self to work
Belief in the intrinsic dignity of the human person is the basis of all Catholic social teaching. Human life is sacred and the dignity of the human person is the starting point for an ethical vision of society. This principle is grounded in the idea that each person is made in the image and likeness of God.
The Church makes her own the atti­tude of the Lord Jesus, who offers his bound­less love to each person without exception….. We would like before all else to reaffirm that every person, regardless of sexual orientation, ought to be respected in his or her dignity and treated with consideration, while 'every sign of unjust discrimination' is to be carefully avoided, par­ticularly any form of aggression and violence.
Pope Francis AMORIS LÆTITIA
A cross section of employees have, over several months, developed Whole Self @ Mercy Health which will provide valuable resources, networks and events for employees who identify as LGBTIQ and their supporters. An initial steering group has been established and its members are listed below. Adjunct Professor Linda Mellors is the group's executive sponsor.
Name
Position
Adj Prof Linda Mellors
Chief Executive Health Services
Alicia Thomas
Group Diversity & Inclusion Manager
Kerry Shearer
Executive Officer to Group CEO
Jeff Brooks
Clinical Advisor, Aged & Community Care
Clare Sullivan
Legal Counsel
James Lye
Group General Manager Marketing, Communications &

Stakeholder Relations

Sr Trudy Keur RSM
Pastoral Care Manager, Werribee Mercy Hospital

Whole Self @ Mercy Health aligns with our core values of Compassion, Hospitality, Respect, Innovation, Stewardship and Teamwork by promoting wellbeing, making people feel safe and recognising that each individual is unique.
Membership to Whole Self @ Mercy Health will be open to all employees, both those who identify as LGBTIQ and their supporters.
Information regarding the formal launch of Whole Self @ Mercy Health will be provided  late October 2017. In the mean time you can find out more about the network here.
[1] Lesbian, Gay, Bisexual, Transgender, Intersex, Queer/Questioning
Download full media release

( PDF, 463.9K )
Last reviewed November 20, 2017.