The Board, Executive and staff of Mercy Health, Mercy Perinatal and Mercy Health Foundation were deeply saddened to learn of the passing of Mr Geoff Handbury AO on Tuesday 26 November.
Mercy Health Group Chief Executive Officer Adj Professor Stephen Cornelissen paid tribute to Geoff Handbury for his character and generosity.
"We would like to express our deepest gratitude for Geoff's life and contribution to Mercy Health, especially through his generosity in providing for the establishment of the Sheila Handbury Chair of Maternal Fetal Medicine."
The Inaugural Sheila Handbury Chair of Maternal Fetal Medicine, Professor Sue Walker AO, and Professor Stephen Tong established Mercy Perinatal as co-directors in 2014. Mercy Perinatal combines the best of clinical care, teaching and research to bring more mothers and babies at risk from pregnancy and birth complications safely home.
"Since its inception in 2014 and with the generous support of benefactors like Geoff Handbury, Mercy Perinatal has been at the forefront of the fight against some of the most persistent and devastating threats to mothers and newborns, including stillbirth, preeclampsia and ectopic pregnancy." Adj Professor Cornelissen said.
"It is fitting, with Geoff's passing, that this very week Mercy Perinatal will commence its annual international symposium, the Global Obstetric Update, bringing together the leading practitioners and researchers in perinatal medicine.
"Geoff's legacy will continue to be felt nationally and internationally as we continue to advance the research agenda and clinical care of pregnant mothers and their babies.
"Geoff's extraordinary contribution leaves a lasting footprint on the health of the next generation."
Adj Prof Cornelissen said Geoff Handbury would be remembered for his kind and gentle manner, his sharp mind, his generosity and his passionate advocacy for improving health outcomes for some of the most vulnerable people.
Mercy Health wishes to offer our prayers and sympathies to the Handbury family.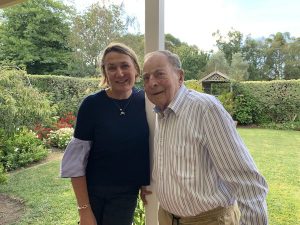 Inaugural Sheila Handbury Chair of Maternal Fetal Medicine and Mercy Perinatal Co Director Professor Sue Walker AO with Geoff Handbury AO
Last reviewed November 27, 2019.