Mercy Health is governed by the concurrent Mercy Health Boards, that it the Boards of:
Bethlehem Home for the Aged Ltd
Mercy Aged and Community Care Ltd
Mercy Hospitals NSW Ltd
Mercy Health Australia Ltd
Mercy Health Property Ltd
Mercy Health Service Albury Ltd
Mercy Hospitals Victoria Ltd
Mercy Palliative Care Ltd
Rice Village Ltd
St Brigid's Convent of Mercy Perth Ltd
Southern Cross Care (Vic).
Our Board Members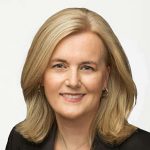 Ms Virginia Bourke BA, LL.B Hons, MA, FAICD
Virginia joined the Mercy Health Boards in 2016 and was subsequently appointed Chair of Mercy Health in 2018. She chairs the Mercy Health Corporate Governance, Remuneration and Nomination Committee and previously served a term as a Director of Mercy Health from 2008 – 2014.
Virginia is the Pro-Chancellor of Australian Catholic University and is a Director of Catholic Health Australia and Caritas Australia. Virginia was formerly Chair of St John Ambulance Victoria and a Director of St John Ambulance Australia.
Virginia is a lawyer and consultant with experience in private practice and senior in-house counsel positions for over 25 years. She is currently a consultant with the national health and aged care industry team at MinterEllison Lawyers.
for Ms Virginia Bourke BA, LL.B Hons, MA, FAICD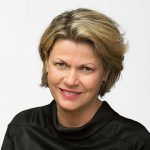 Ms Jo Barker B Comm, ACA, GAICD
Jo joined the Mercy Health Boards and the Mercy Health Finance, Audit and Risk Committee in 2015, and provides valuable business knowledge and insight. Jo was appointed Chair of the Mercy Health Finance, Audit and Risk Committee in 2021.
Jo is a partner within EY's Strategy and Transaction team (SaT) in Melbourne.
She has over 25 years of transaction experience in Australia, Asia Pacific and the UK, helping private and public companies achieve long-term competitive advantage by advising on the management of all aspects of their capital agenda.
Jo also serves as the Oceania Consumer Markets Service Leader and sits on the SaT Leadership team.
"I hope that my commercial experience and diverse perspective are a valuable addition to the existing strong Board and management capability."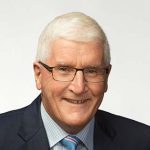 Mr Martin Day, Assoc Dip Valuations and Real Estate Management, MBA, FAICD, GAIST Adv
Martin has been on the Mercy Health Boards since 2016. He is Chair of the Mercy Health Ethics Committee and a member of the Finance, Audit and Risk Committee. Prior to this, Martin was Chief Executive Officer of the Private Hospitals Division of St Vincent's Health Australia, which included eight leading private hospitals in Melbourne, Sydney, Brisbane and Toowoomba. Martin held senior executive roles in the health service industry for 23 years, in both Australian and international acute healthcare markets, including South East Asia and the Pacific. He also has 20 years of corporate governance experience in the not-for-profit sector, including healthcare and, for the past eight years, industry superannuation.
Martin's qualifications include: Associate Diploma of Valuations and Real Estate Management, RMIT; Master of Business Administration, Deakin University, Victoria; Fellow of Australian Institute of Company Directors; and Graduate of the Australian Institute of Superannuation Trustees. His industry experience includes risk management, clinical governance, workforce development, financial management, operational management, stakeholder engagement, public/private partnerships and social accountability. Martin is also a Director of Adeney Private Hospital Pty Ltd and East Sydney Day Hospital Pty Ltd. Adeney is a new private hospital in Kew, Melbourne, being developed by a joint venture including Medibank Private and 42 specialist doctors. East Sydney is also a joint venture including Medibank, specialist doctors and other investors.
"I am inspired by the founding Sister of Mercy, Catherine McAuley, and her successors, who have dedicated their lives to improving the wellbeing of those who are less fortunate than others, vulnerable, and in need of compassion and holistic care. These works are now largely provided by laypersons who, like the Sisters of Mercy, have a very strong vocation and actively embrace the mission, vision and values of Mercy Health."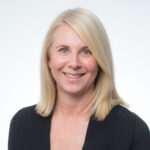 Ms Penelope Eden LL.B, Cert. Nursing
Penelope joined the Mercy Health Board in May 2021. Penelope brings her broad expertise across health and aged care, mental health, youth and child health, and disability services to the Mercy Health Board, having advised operators across the sector for over 20 years as a legal practitioner. Penelope is a partner at law firm MinterEllison, where she leads the firm's national aged care and human services practice. Penelope is passionate about the work she does and her contribution to the sector.
Penelope's background as a clinician and longstanding engagement in the health and human services sectors gives her a unique understanding of the complex regulatory and operational environment within which Mercy Health operates. She advises on the regulatory, contractual and broader commercial risks and opportunities in the rapidly changing human services sector. Penelope is widely regarded as an industry expert and has been consistently recognised in 'Best Lawyers in Australia' and 'Doyles Guide' in the categories of Health and Aged Care, Medical Negligence, Personal Injuries and Insurance Law.
"I was educated by the Sisters of Mercy and feel a strong connection to the Mercy values. I am passionate about the work I do across the health and human services sector and hope to contribute in some way to the important work of Mercy Health within our community. I feel privileged to be part of such an experienced and committed Board and management team."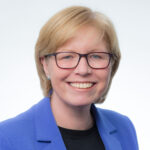 Ms Jane Edge MBA (Exec), GAICD
Jane joined the Mercy Health Board on 1 November 2021. Jane draws on over 25 years' experience in high impact roles delivering social change. She has a unique blend of senior executive/CEO/Board experience across strategic and operational management.
Jane is the CEO of Australia's largest disability-focused international development organisation, CBM Australia, where she leads catalytic, collaborative and innovative approaches that see millions of lives transformed each year in a growing movement to end the cycle of poverty and disability. Jane also serves on the Board of the Australian Council for International Development as Vice-President Finance and has held a range of governance roles locally and internationally.
Jane's early career was in journalism and communications, followed by executive management roles and organisational change/executive coaching consulting across a variety of industries. Jane has a Master of Business Administration (Executive) and Advanced Certificate in Executive Coaching.
"As a passionate change-maker motivated by my faith, I'm innately drawn to Catherine McAuley's servant leadership, advocacy and practical action for the poor. Her vision for the world is even more compelling today and I'm thrilled to serve alongside Mercy Health Board colleagues and executive staff all of whom are so committed to stewarding Catherine's legacy and the Mercy values."
Dr Jane Fischer MBBS, FAChPM, GAICD
Jane joined the Mercy Health Board in May 2023 and is also a member of the Board Quality Committee.
As a former CEO in the Victorian public health sector and an experienced Board Chair in the not-for-profit sector, Jane brings strong leadership, clinical governance and strategic expertise to the Mercy Health Board.
Jane has a medical background, specialising in palliative medicine and has worked in both metropolitan and rural settings. She has extensive knowledge of the health, aged and disability sectors and over 20 years of experience in senior health executive roles including as the former CEO/Medical Director at Calvary Health Care Bethlehem. In that role, Jane led a significant change management process resulting in a major organisational restructure. She achieved a financially sustainable model of care with the expansion of ambulatory services and ultimately, the redevelopment of their Caulfield site.
Jane has over 15 years of governance experience and was Chair of Palliative Care Australia for five years. She is skilled at working with government and a range of key stakeholders at a state, national and international level to advocate for funding and policy development. Jane has also been a member of a number of federal and state government advisory committees to influence strategy and policy directions for palliative care.
"The values of Mercy Health are strongly aligned with my own personal values. I admire Catherine McAuley and the founding Sisters of Mercy, who, against adversity, established services caring for those most vulnerable. It is a privilege to be part of the Board and to work with other Directors to continue the mission of the Sisters and ensure Mercy Health continues to meet the changing health needs of the community."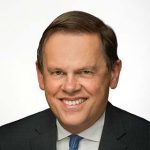 Adjunct Clinical Associate Professor Ian Haines MBBS Hons, FRACP, FAChPM
Ian joined the Mercy Health Boards in 2016 and is Chair of the Mercy Health Quality Committee. Ian has more than 30 years of experience as a Medical Oncologist and has a special interest in medical ethics, palliative care and health equity, as a participant in professional, government, non-government and community work in all three areas. He is also active in community health, lecturing to diverse groups on cancer treatments and palliative care topics and he regularly writes articles and reviews for local and international journals. He is an advisor to medical panels, legal firms and government superannuation funds.
Ian is an Adjunct Clinical Associate Professor in the Department of Medicine, Monash University at The Alfred and Cabrini Hospitals, where he has particular research interests in treatment of early prostate cancer, palliative care and end-of-life care, alternative therapies for cancer and relations between physicians and industry. He is a member of the American Society of Clinical Oncology, Clinical Oncology Society of Australia and the Ethics Subcommittee of the Medical Oncology Group of Australia. Ian is also the founder and a director of Melbourne Oncology Group, a private sector oncology specialist group.
"I am fortunate to have worked at Cabrini for 30 years and have a deep respect and admiration for the many devoted and wonderful people that work in the Catholic healthcare sector. In my time at Mercy Health thus far, I have been impressed by the calibre of the people and the organisation and its strong commitment to mission and the care of the less fortunate in our community. I look forward to contributing to the vision and growth of Mercy Health."
Sr Berice Livermore RSM, RN, MN, B Health Admin, Dip Theology
Berice joined the Mercy Health Boards in November 2018 and joined the Mercy Health Quality Committee in 2020. A Religious Sister of Mercy, Berice has various qualifications including a Bachelor of Health Administration, as well as extensive experience administering non-profit organisations, particularly in healthcare.
Berice is a consultant to many religious congregations, assisting them in their financial management, governance, and planning of strategies for meeting the demands of caring for the elderly among them.
Berice has been a Sisters of Mercy Congregation Leader and Community Leader, Chair of the Institute Finance Committee, Chair of Catherine McAuley Services Ltd and Chair of St Joseph's Cowper Ltd. She is currently Chair of The Corporation of the Trustees of the Sisters of Perpetual Adoration of the Blessed Sacrament Ltd ATF The Sisters of Perpetual Adoration Trust.
"As a Sister of Mercy I am grateful for my membership of the Board of Mercy Health. It provides me with the opportunity to witness and be inspired by the strong commitment to the Mission of Mercy of my fellow directors and staff of this important organisation in the lives of the Sisters of Mercy."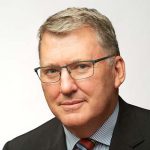 Mr Tim O'Leary BA Hons, Grad Dip Applied Philosophy
Tim joined the Mercy Health Boards in 2016 and is Chair of the Mercy Health Human Research Ethics Committee. Tim is an experienced business and corporate affairs executive, having worked in the oil, banking and telecommunications industries. He is currently Executive Director Stewardship for the Catholic Archdiocese of Melbourne. In this role he is responsible for the business, financial and governance aspects of the Archdiocese.
Tim is a Member of Council at Newman College (University of Melbourne) and a board member of Melbourne Archdiocesan Catholic Schools. He is also a former board member of eMotion 21, a for-purpose charity that champions the inclusion of young people with Down Syndrome. Tim has an Honours degree in Arts and a Graduate Diploma in Philosophy from the University of Melbourne.
"I welcome the opportunity to support and serve the ministry of Mercy Health. It is a privilege to be part of a Catholic organisation providing compassionate and responsive care to all people, but especially the vulnerable and disadvantaged, at all stages of life."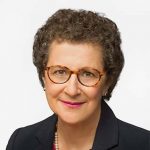 Adjunct Professor Susan Pascoe AM, BA, Dip Ed, Grad Dip Special Ed, M Ed Admin (Hons), FAICD, FIPAA, FACE
Susan was appointed to the Mercy Health Boards in March 2018 and is a member of the Mercy Health Corporate Governance, Remuneration and Nomination Committee. She is President and Chair of the Australian Council for International Development (ACFID), Chair of Catholic Emergency Relief Australia (CERA), Chair of the Community Director's Council, and Chair of the Victorian Government's Social Services Regulation Taskforce. Susan is a member of the Vatican's Commission on Methodology and its Taskforce for the Continental Stage preparing for the Synod on Synodality. She was a member of the Australian Catholic Bishops Conference Safeguarding Steering Committee, and it's Governance Review Project Team from 2019 to April 2020.
Susan was the inaugural Commissioner for the Australian Charities and Not-for-profits Commission (ACNC) from 2012-17 and subsequently co-chaired a review of early childhood education in Australia. From 2006-2011, Susan was Commissioner of the State Services Authority in Victoria. In 2009, she was appointed as one of three commissioners for the Royal Commission into Victoria's Black Saturday bushfires.
Susan's earlier career was in education. She served as President of the Australian College of Educators, Chief Executive Officer of the Victorian Curriculum and Assessment Authority and Chief Executive of the Catholic Education Commission of Victoria. Susan chaired the Australian National Commission for UNESCO and has chaired or served on a number of education, health and government boards. Currently, Susan is chairing a Taskforce for the Victorian Government on Social Services Reform.
In 2007, Susan was appointed Member of the Order of Australia for service to education. In 2016, she was awarded the Leadership in Government Award for her outstanding contribution to public administration in Australia.
"I was educated by Mercy sisters in primary school, and have worked with a number of Mercy women as colleagues over the years. I have deep respect for their commitment to those who are experiencing vulnerability and marginalisation, and to their professional approach to their ministry and missionary endeavours. I am honoured to have some role in continuing the work of Catherine McAuley here in Australia."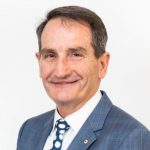 Adjunct Professor Francis Sullivan AO, BA, Dip Ed, MA
Francis was appointed to the Mercy Health Boards in November 2019. He is committed to equity and justice and has been highly successful in bringing a social conscience to the political debate on health and aged care issues. In 2020, Francis was appointed an Officer of the Order of Australia for his distinguished service to the community, particularly through social justice and legislative reform initiatives, and to health and aged care.
Francis is Chairman of the Board of the Mater Group and prior to this was Chief Executive Officer at the Truth, Justice and Healing Council and Secretary General of the Australian Medical Association.
He spent 14 years as the Chief Executive Officer of Catholic Health Australia, speaking for 73 private and public hospitals and more than 500 aged care services across Australia. Prior to that, Francis was senior advisor to the Minister for Health in Western Australia.
Francis has a masters degree in theology from Loyola University in Chicago and a bachelor degree in politics from Curtin University in Western Australia. Early in 2008, the Australian Catholic University awarded Francis an honorary doctorate for his work in public health advocacy. He is also an Adjunct Professor at the Australian Catholic University.
"I have been fortunate to see close hand the exceptional way in which the Sisters of Mercy have risen to the contemporary challenges of health and aged care in our community. Their resolve to continue a gospel-based ministry in highly competitive and exacting environments plus their unswerving dedication to the disadvantaged and marginalised not only inspire me but beckon me to join in the unfolding story of Mercy Health today."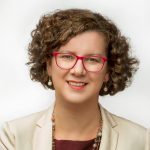 Ms Alison Moran LL.B. (Hons.), B.A., Grad Dip ACG, FGIA, GAICD
Alison joined Mercy Health in September 2020 and is appointed as Company Secretary to each of the companies governed by the Mercy Health Boards. Alison attends all Board meetings and meetings of the Corporate Governance, Remuneration and Nominations Committee, and provides governance advice and support to the Mercy Health Board Chair, the Board as a whole and the Group Chief Executive Officer. Alison is an experienced corporate governance professional and lawyer, having enjoyed a long career at major commercial law firm, Corrs Chambers Westgarth, in both client-facing, commercial law roles and internal legal and governance roles, including as the firm's General Counsel. Prior to joining Mercy Health, Alison was Company Secretary of Cabrini Health, a leading private Catholic healthcare service in Melbourne. Alison holds a Bachelor of Laws (Hons.) and a Bachelor of Arts from the University of Melbourne, a Graduate Diploma of Applied Corporate Governance and is a Graduate of the Australian Institute of Company Directors. She is also a Fellow of the Governance Institute of Australia.
"I feel privileged to work with such a talented Board committed to furthering the work of Catherine McAuley, and draw inspiration from the values of compassion and stewardship in particular in making my own contribution to Mercy Health's good governance."
Last reviewed November 19, 2017.