Mercy Health is governed by the concurrent Mercy Health Boards, that it the Boards of:
Bethlehem Home for the Aged Ltd
Mercy Aged and Community Care Ltd
Mercy Hospitals NSW Ltd
Mercy Health Australia Ltd
Mercy Health Property Ltd
Mercy Health Service Albury Ltd
Mercy Hospitals Victoria Ltd
Mercy Palliative Care Ltd
Rice Village Ltd
St Brigid's Convent of Mercy Perth Ltd
Southern Cross Care (Vic).
Our Board Members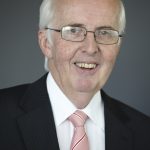 Mr Julien O'Connell AM
Julien was appointed to both the Mercy Health Boards and the Mercy Health Finance, Audit and Risk Committee in 2005, and was subsequently appointed Chairman of Mercy Health and a Director of Mercy Health Foundation in 2008.
for Mr Julien O'Connell AM
Ms Jo Barker
Jo joined the Mercy Health Boards and the Mercy Health Finance, Audit and Risk Committee in 2015, and provides valuable business knowledge and insight.
Jo is a partner within EY's Transaction Advisory team in Melbourne. She has over 20 years' of transaction experience in Australia, Asia Pacific and the UK, helping private and public companies achieve long-term competitive advantage by advising on the management of all aspects of their capital agenda. Jo also serves as the Global Deputy Quality Leader for Transaction Advisory Services for EY and is a member of the Global Transaction Advisory Services Quality Executive.
"I hope that my commercial experience and diverse perspective are a valuable addition to the existing strong Board and management capability."
Ms Margaret Bounader
Margaret joined the Mercy Health Boards in 2011. She joined the Mercy Health Foundation Committee in 2012 and was appointed a Director in 2013. Margaret has more than 20 years' experience working in international trade and investment. During her career with Austrade, she worked with companies from SMEs to large multinationals across all industry sectors, helping them win business in overseas markets.
Margaret previously spent 10 years working overseas as Trade Commissioner in South Africa, Nigeria, Singapore and Malaysia. She is a co-founder of the Women in Global Business program and previously a member of the City of Melbourne's Enterprise Melbourne Advisory Board.
"I am inspired by Mercy Health's strong emphasis on care and treating every person with dignity and compassion at every stage of life."
Ms Virginia Bourke
Virginia joined the Mercy Health Boards in 2016 and is a member of the Mercy Health Corporate Governance, Remuneration and Nomination Committee and the Mercy Health Quality Committee. Virginia is a lawyer and consultant in private practice with a breadth of corporate governance and commercial experience. She has served as a director of several not-for-profit organisations including a term as a Director of Mercy Health from 2008–2014, and as a member of the Mercy Health Human Research Ethics Committee. She is currently Chairman of St John Ambulance Victoria.
Virginia has broad legal experience, previously working as General Counsel for the Institute of Sisters of Mercy of Australia and Papua New Guinea and as Special Counsel in the Employment Law group at Minter Ellison Lawyers. Virginia brings a community perspective to her board roles informed by her long involvement with local parish and school organisations.
"I am proud to be part of the Mercy story. For me there is immense appeal in the story of Catherine McAuley: a visionary, yet practical woman, whose leadership style was based on warm relationships with those around her. I believe one of the strengths of our Boards is the diversity of its members, particularly its gender diversity. I aim to contribute not only my professional skills, but my real life experience and my perspective as a woman involved in many aspects of community life."
Mr John Corcoran AM
John has been on the Mercy Health Boards since 2011 and is a member of the Mercy Health Finance, Audit and Risk Committee. John has a Bachelor of Laws (Monash) and Bachelor of Economics (Monash), as well as being an Accredited Specialist in Business Law (Law Institute of Victoria). He is a former executive partner of Russell Kennedy, and now serves as a Principal.
John is a recipient of the Centenary Medal for services to Australian society and to the law, which include his service as Chairman of Legal Practitioners' Liability Committee, and on the Legal Service Board from 2005–2010, and again in 2013. He was Law Council of Australia President in 2009, Law Institute of Victoria President from 2001–2002, and a London Board Member of the International Bar Association, 2009–2012. John was named in Best Lawyers' 2013 Lawyer of the Year Award in Retirement Villages and Senior Living Law. John was awarded an Order of Australia in the 2017 Australia Day Honours.
"I enjoy being associated with such a diverse organisation that provides care and support to so many members of our community. I hope that my experience and input at Board level can help our dedicated staff in carrying out the Mercy mission. The vision and Catholic ethos of the Sisters of Mercy inspire us to continue the good work of our predecessors."
Mr Martin Day
Martin has been on the Mercy Health Boards since 2016, and is Chairman of the Mercy Health Ethics Committee. Prior to this, Martin was Chief Executive Officer of the Private Hospitals Division of St Vincent's Health Australia, which included eight leading private hospitals in Melbourne, Sydney, Brisbane and Toowoomba. Martin has held senior executive roles in the health service industry for 23 years, in both Australian and international acute healthcare markets, including South East Asia and the Pacific. He also has 14 years of corporate governance experience in the not-for-profit sector, including healthcare and, more recently, industry superannuation.
Martin's qualifications include: Associate Diploma of Valuations and Real Estate Management, RMIT; Master of Business Administration, Deakin University, Victoria; Fellow of Australian Institute of Company Directors; Adjunct Professor of the Australian Catholic University; and Graduate of Australian Institute of Superannuation Trustees. His industry experience includes risk management, clinical governance, workforce development, financial management, operational management, stakeholder engagement, public/private partnerships and social accountability. Martin is also a director of Prime Super, an industry superannuation fund; Green Acres Golf Club Ltd (current President); and Cabrini Health Ltd.
"I am inspired by founding Sister of Mercy, Catherine McAuley, and her successors, who have dedicated their lives to improving the wellbeing of those who are less fortunate than others, vulnerable, and in need of compassion and holistic care. These works are now largely provided by laypersons who, like the Sisters of Mercy, have a very strong vocation and actively embrace the mission, vision and values of Mercy Health."
Adjunct Clinical Associate Professor Ian Haines
Ian joined the Mercy Health Boards in 2016 and is Chairman of the Mercy Health Quality Committee. Ian has more than 30 years of experience as a Medical Oncologist and has a special interest in medical ethics, palliative care and health equity, as a participant in professional, government, non-government and community work in all three areas. He is also active in community health, lecturing to diverse groups on cancer treatments and palliative care topics and he regularly writes articles and reviews for local and international journals. He is an advisor to medical panels, legal firms and government superannuation funds.
Ian is an Adjunct Clinical Associate Professor in the Department of Medicine, Monash University at The Alfred and Cabrini Hospitals, where he has particular research interests in treatment of early prostate cancer, palliative care and end-of-life care, alternative therapies for cancer and relations between physicians and industry. He is a member of the American Society of Clinical Oncology, Clinical Oncology Society of Australia and the Ethics Subcommittee of the Medical Oncology Group of Australia.
"I am fortunate to have worked at Cabrini for almost 30 years and have a deep respect and admiration for the many devoted and wonderful people that work in the Catholic healthcare sector. In my time at Mercy Health thus far, I have been impressed by the calibre of the people and the organisation and its strong commitment to mission and the care of the less fortunate in our community. I look forward to contributing to the vision and growth of Mercy Health."
Mr Tim O'Leary
Tim joined the Mercy Health Boards in 2016 and is Chairman of the Mercy Health Human Research Ethics Committee. Tim is an experienced corporate affairs executive, having worked in the oil, banking and telecommunications industries. He is currently Executive Director Rural Affairs and Chief Sustainability Officer at Telstra. In this role he is responsible for rural affairs, strategic community and reputational initiatives, corporate responsibility and Telstra's environment strategy.
Tim is a Member of Council at Newman College (University of Melbourne) and a board member of the Telstra Foundation. He is also a former Board member of eMotion 21, a small community arts organisation catering for the needs of young people with Down Syndrome. Tim has an Honours degree in Arts and a Graduate Diploma in Philosophy from the University of Melbourne.
"I welcome the opportunity to support and serve the ministry of Mercy Health. It is a privilege to be part of a Catholic organisation providing compassionate and responsive care to all people, but especially the vulnerable and disadvantaged, at all stages of life."
Ms Susan Pascoe AM, FAICD, FIPAA, FACE
Susan was appointed to the Mercy Health Boards in March 2018. She is President and Chair of the Australian Council for International Development (ACFID); Chair of both the Community Director's Council and the Principals Australia Institute Certification Advisory Board; and an associate of Baxter Lawley.
Susan was the inaugural Commissioner for the Australian Charities and Not-for-profits Commission (ACNC) from 2012-2017 and subsequently co-chaired a review of early childhood education in Australia. From 2006-2011, Susan was Commissioner of the State Services Authority in Victoria. In 2009, she was appointed as one of three commissioners for the Royal Commission into Victoria's Black Saturday bushfires.
Susan's earlier career was in education. She served as President of the Australian College of Educators, Chief Executive Officer of the Victorian Curriculum and Assessment Authority and Chief Executive of the Catholic Education Commission of Victoria. Susan chaired the Australian National Commission for UNESCO and has chaired or served on a number of education, health and government boards.
In 2007, Susan was appointed Member of the Order of Australia for service to education. In 2016, she was awarded the Leadership in Government Award for her outstanding contribution to public administration in Australia.
'I was educated by Mercy sisters in primary school, and have worked with a number of Mercy women as education colleagues as well. I have deep respect for their commitment to the poor and marginalised, and to their professional approach to their missionary endeavours. I'm honoured to have some role in continuing the work of Catherine McAuley here in Australia.'
Ms Agnes Sheehan
Agnes has served on the Mercy Health Boards since 2009. She has held a number of senior executive positions in the information and communications technology industry over the past 20 years, leading highly engaged teams to deliver organisational integration, transformation and growth, primarily within large enterprise government and not-for-profit organisations.
Agnes led five substantial businesses at Telstra over 13 years, including her most recent roles as Director of Enterprise Mobility, and before that, Director of Connectivity and Network Sales. Prior to Telstra, Agnes was the Regional Director Asia Pacific for Ericsson Enterprise and also worked for an aerospace industry start-up owned by GE and Lufthansa. She is a graduate of the Australian Institute of Company Directors, and holds a Bachelor degree in Business Studies and a Diploma in Public Relations.
"I consider it a great privilege to serve an organisation that constantly advocates for those in need, that is not afraid to challenge, and whose leadership and staff live the mission of care first every day, relentlessly building an enduring passion and capacity to serve the people in our care and the wider community."
Sr Joan Wilson RSM
Sr Joan joined the Mercy Health Boards in 2011. Sr Joan trained as a primary school teacher, and has taught and held the position of Principal of parish primary schools across Victoria over a 30 year period. As Deputy Chair, School Services, of the Catholic Education Office of Melbourne, she was responsible for selecting and appointing principals and orientating and mentoring new principals. Sr Joan maintains her involvement with Catholic education as a member of several school and education-related boards and committees. Sr Joan managed the Convent of Mercy Hostel from 2007 to 2010 and continues to care for a number of Sisters of Mercy in aged care. In 2014 she celebrated her golden jubilee as a Sister of Mercy.
Sr Joan's governance roles have spanned various Mercy ministries. She was a member of the Sisters of Mercy Melbourne Congregation leadership team from 2000–2005, and was a member of Mercy Secondary Education Inc and MacKillop Family Services.
"As a Sister of Mercy, I am able to contribute to the ongoing ministry of Mercy in partnership with all those who govern, manage and work in our care services."
Last reviewed November 19, 2017.