The modern story of Mercy Health began with the founding of the Order of the Sisters of Mercy in Dublin in 1831 by Catherine McAuley, who dedicated her life to serving people in need.
In 2020, Mercy Health marked 100 years of healthcare.
Thousands of people have contributed to the rich 100-year history of Mercy Health, which began with opening of St Benedict's Hospital in 1920.
Join us as we celebrate a centenary of exceptional care and share your story.
Our Founder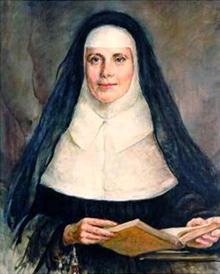 Catherine McAuley was born in Dublin, Ireland in 1778. Dedicating her life to caring for the poor, particularly women, Catherine established the House of Mercy in 1827 — a facility built to house and educate poor women. In 1831, Catherine made her Profession of Vows and created the Order of the Sisters of Mercy.
Sisters of Mercy should be particularly kind — the kindest people on earth, with the tenderest pity and compassion for the poor.

Catherine McAuley
Mercy in Australia
The Sisters of Mercy went on to found convents, schools and hospitals across the globe. They arrived in Australia in 1846, led by Mother Ursula Frayne. The Australian congregation grew and established schools and convents around the country and opened their first hospitals in Brisbane and Sydney.
Following a devastating influenza pandemic, the Sisters of Mercy opened their first Victorian hospital — St Benedict's in Malvern — in 1920. They established a reputation for excellence in care and hospitality that has grown in strength to this day. The success of St Benedict's allowed the Sisters to open Mercy Private Hospital in East Melbourne in 1934, Mercy Maternity Hospital (later renamed Mercy Hospital for Women) in 1971, and Werribee Mercy Hospital in 1994.
Over time, the Mercy order has expanded our mission across Australia, drawing on other local and international religious and Catholic fraternal orders and organisations with whom we share our commitment to mission. They include the Family Care Sisters (Grey Sisters), Good Shepherd Sisters, Holy Spirit Missionary Sisters and the Knights of the Southern Cross (Victoria) all of whom contribute to our charism and care.
Mercy Health yesterday, today and tomorrow
Mercy Health is a dynamic, growing organisation, caring for people through all stages of life. In addition to acute and subacute hospital care, we provide aged care, mental health programs, maternity and specialist women's and newborns' health services, early parenting services, home care services and health worker training and development.
Last reviewed November 12, 2019.