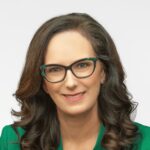 Angela Nolan
Title:

Group Chief Executive Officer
"Having recently joined Mercy Health, I have experienced firsthand the genuine and sincere hospitality that is such a core and enduring aspect of Mercy's identity, purpose and culture. Everyone I have connected with has been incredibly friendly and has gone out of the way to make me feel welcome and supported, and I immediately feel a part of the team."
Angela Nolan has recently been appointed Group CEO at Mercy Health Australia, taking up this position in October 2022. This follows five years as CEO of St Vincent's Hospital Melbourne and previous Executive positions at St Vincent's in operations and corporate services.
Angela holds a Bachelor of Business and began her career as a Chartered Accountant at Arthur Andersen, working with organisations across a variety of industries, including healthcare, manufacturing, banking and finance and superannuation.
After completing a second qualification in Human Resource Management and Industrial Relations, Angela worked for the ANZ Bank. In her final role at ANZ, Angela was Global Head of HR Advisory and Consulting, where she led significant transformation programs.
Angela has served on the Boards of St Vincent's Research Institute, Aikenhead Centre for Medical Discovery, the Victorian Comprehensive Cancer Centre and Inclusion Melbourne. Angela was awarded the Australian Centenary Medal for her work with Inclusion Melbourne, a community based not for profit organisation that facilitates community involvement for people with intellectual disabilities.
Cathy Jenkins
Title:

Executive Director Mission Leadership
'I believe that a way of making God's presence visible is through demonstrating deep compassion and care for another.'
Cathy Jenkins joined Mercy Health as Executive Director Mission Leadership in August 2021. Bringing qualifications in Arts, Theology and Leadership she has a background in both education and publishing. Cathy has worked in a variety of environments – schools, the corporate world, as a system leader in education in Melbourne and Sandhurst and as a leader of mission and evangelisation for the Archdiocese of Melbourne. Cathy believes that organisations such as Mercy Health are contemporary centres of Catholic life and is committed to continuing to build on the rich environment which supports and enables the Mercy healing ministry to flourish.
In addition to an active involvement in parish life, Cathy is a member of the Mercy Education Board, the Sandhurst Catholic Early Education and Care Board and a Member for the Plenary Council.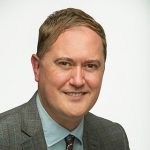 Professor Jason Payne
Title:

Chief Executive Health Services
"Innovation and Teamwork are the cornerstone to Health Services success. Underpinned by courageous leadership these core values enable us to deliver consistent high quality care to our community. In striving for excellence we adopt Catherine McAuley's view that 'We should be shining lamps, giving light to all around us'."
Jason was appointed Chief Executive Health Services in October 2019. This role has operational oversight of Mercy Hospital for Women, Werribee Mercy Hospital, Mercy Mental Health, Mercy Palliative Care, Mercy Health O'Connell Family Centre as well as hospital services in New South Wales. Prior to this Jason was the Chief Operating Officer, Health Services, a position he had held since December 2018. Jason has a clinical background in nursing and 25 years' experience in the Victorian public health sector across a variety of care settings. Previously he has worked at the Department of Health and Human Services and across a broad range of roles at Austin Health including the Executive Director Clinical Operations and Ambulatory Services and the inaugural Director of Cancer and Neurosciences at the Olivia Newton-John Cancer Wellness & Research Centre.
Jason believes strong consumer engagement is critical for improving better patient care and outcomes and has a passion for working with our consumers to achieve this.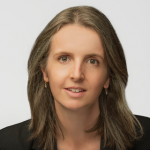 Katherine Burton
Title:

Executive Director Quality, Safety and Innovation
"We work together as a team, focused on the continued improvement of our services with compassion towards each other and everyone we serve."
Katherine was appointed to the position of Director Quality and Innovation Health Services in January 2019 and appointed to Executive Director Quality, Safety and Innovation in 2021.
Katherine is responsible for leading and directing the quality systems and processes that support the provision of high-quality, safe and person-centered care, and the safety and wellbeing of our staff.
With a clinical background in nuclear medicine, Katherine has more than 20 years' experience in the health industry, holding various senior management and executive roles in quality and safety and operations across major tertiary and specialist health services. She also has extensive strategic project management experience with expertise in clinical governance, risk management, change management and process redesign.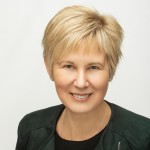 Mary-Anne Gallagher
Title:

Chief People Officer
"Kindness and compassion are attributes I value in all human interactions and seek to display. I am a values-based leader and enjoy creating great places to work."
Mary-Anne joined Mercy Health as Executive Director People, Learning and Culture in May 2022. Mary-Anne has worked across six sectors, most recently in private not-for-profit healthcare where she established and led a human resources function. Mary-Anne has worked in both private and public healthcare settings and enjoys the healthcare context.
Mary-Anne is a registered psychologist and completed her Masters in Positive Organisation Development from Case Western University in Ohio, USA. Mary-Anne enjoys working collaboratively and being part of a team. Authenticity and compassion are core values for Mary-Anne as a leader.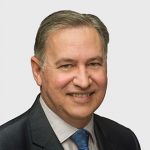 Matthew Posar
Title:

Group Chief Deputy Executive and Group Chief Financial Officer
"Catherine McAuley reminds us of the importance of stewardship when she says: 'Since there is very little good can be accomplished, or evil avoided, without the aid of money, we must look after it in small as well as in great matters'"
Matthew assumed the role of Chief Financial Officer at Mercy Health in June 2018. His role involves oversight and direction of the finance and business services function of the organisation.
An accomplished senior Executive with considerable CFO and CEO experience, Matthew has a strong commercial background and demonstrated executive experience in ASX listed, private equity-backed companies and not-for-profit organisations. He has leadership experience in the fields of professional services, mining and health.
Prior to joining Mercy Health, Matthew was CFO and Head of Corporate Services of headspace, the National Youth Mental Health Foundation, from 2012 to January 2018. In addition to his CFO role, he also was the headspace Interim CEO from June 2016 to February 2017.
Matthew has a proven track record in delivering successful commercial and strategic outcomes, with expertise in all aspects of finance including accounting, treasury, government funding, and risk management.
Last reviewed February 21, 2018.