Mercy Health Foundation is delighted to announce that the annual Mercy Health Foundation Ball, in partnership with Catholic Super, will be held on Friday 31 May 2019 at the Grand Hyatt Melbourne.
Join us for a night of entertainment and to help raise funds for Mercy Perinatal. Mercy Perinatal is a three-pillar centre of excellence in clinical care, education and research dedicated to improving the health of mothers and babies now and into the future.
Mercy Perinatal strives to keep little hearts beating for the first 300 days after conception. These first nine months are arguably the most important months of our whole lives.
Your support will play a direct and fundamental role in bringing mothers and their babies home safely.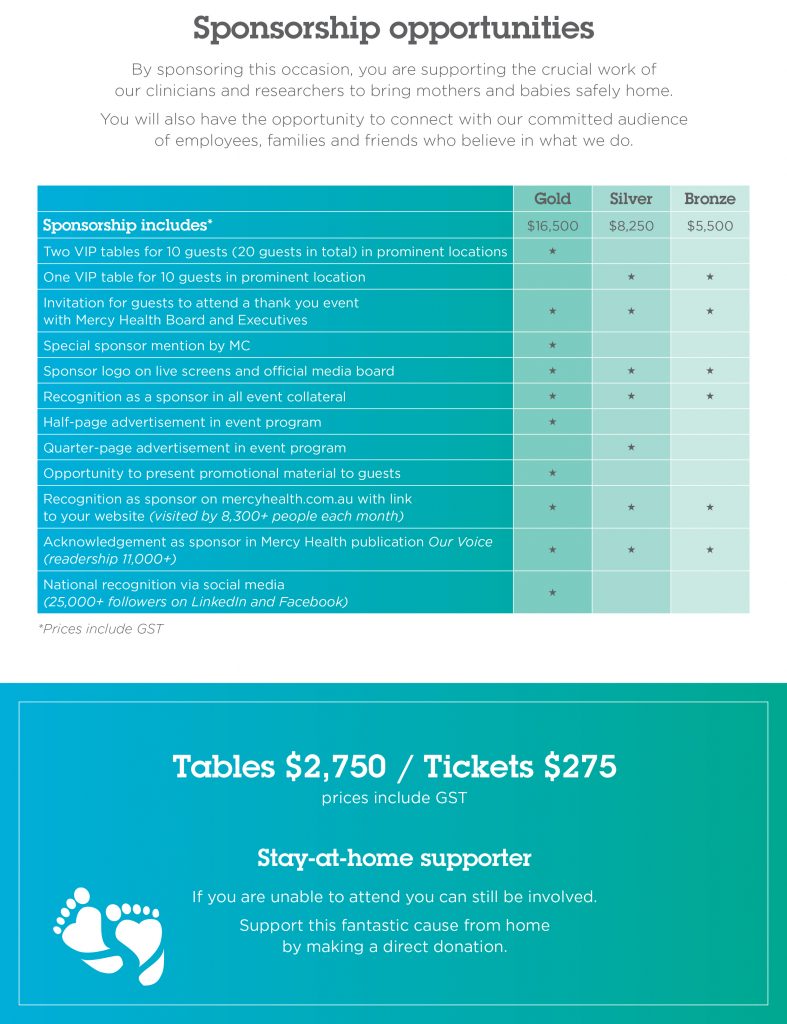 If you would like to donate or purchase tickets to attend the Mercy Health Foundation Ball, find the form here.
For sponsorship opportunities please contact:
David Furniss, Corporate Partnerships Manager
Mobile: 0430 436 293
Email: dfurniss@mercy.com.au
For event enquiries please contact:
Coleen Seidel, Senior Events Coordinator
Phone: 03 8416 7753
Email: RSVP@mercyball.com.au
Thank you to our 2019 sponsors, click on the logo's to visit our sponsors websites.
Platinum Sponsorship

Gold Sponsorship

Master of Ceremonies Sponsorship

Silver Sponsorship
Bronze Sponsorship
   
Official Print Sponsor