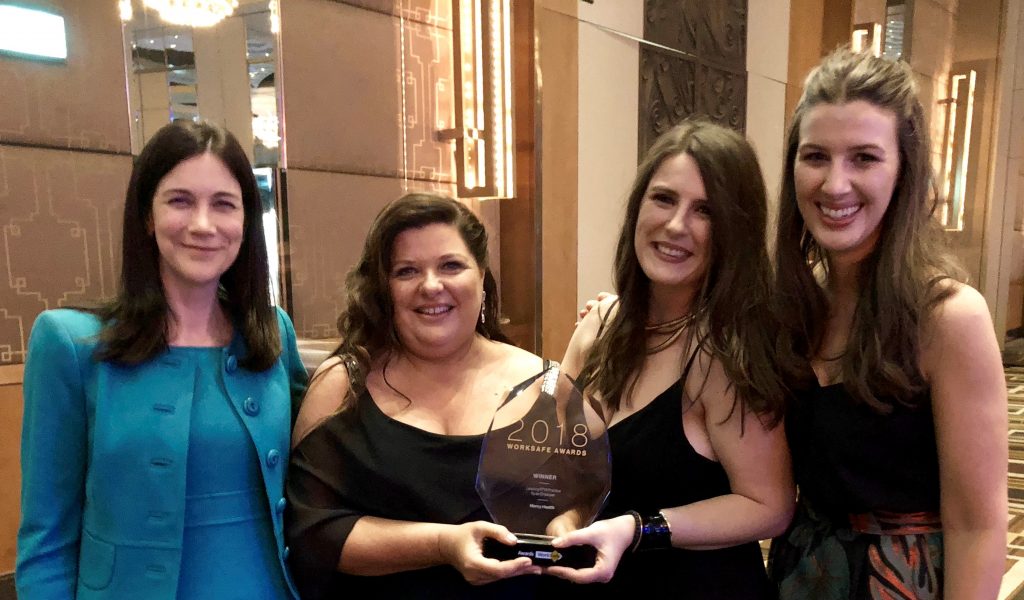 Mercy Health wins WorkSafe Award
We are very proud to announce that Mercy Health's Quality, Safety and Innovation team has won a 2018 WorkSafe Award, taking out first place for the category of 'Leading Return to Work Practice by an Employer'.
In April 2017, Mercy Health launched a national early intervention injury management program to respond immediately to workplace injuries, promote recovery at work and empower managers to effectively support injured employees.
With service provider Cogent Thinking, Mercy Health implemented a suite of initiatives to familiarise team members with workers compensation legislation and encourage prompt intervention by line managers for hazards and injuries.
Congratulations to the Quality, Safety and Innovation team for this outstanding achievement.
Photo L-R: Mercy Health Executive Director Quality, Safety and Innovation Clare Grieveson, Mercy Health Group Work Cover Manager Danielle Sinclair, Cogent Thinking Operational Lead Dolores Hidic and Cogent Thinking General Manager Emily Glenn.
Last reviewed February 21, 2019.